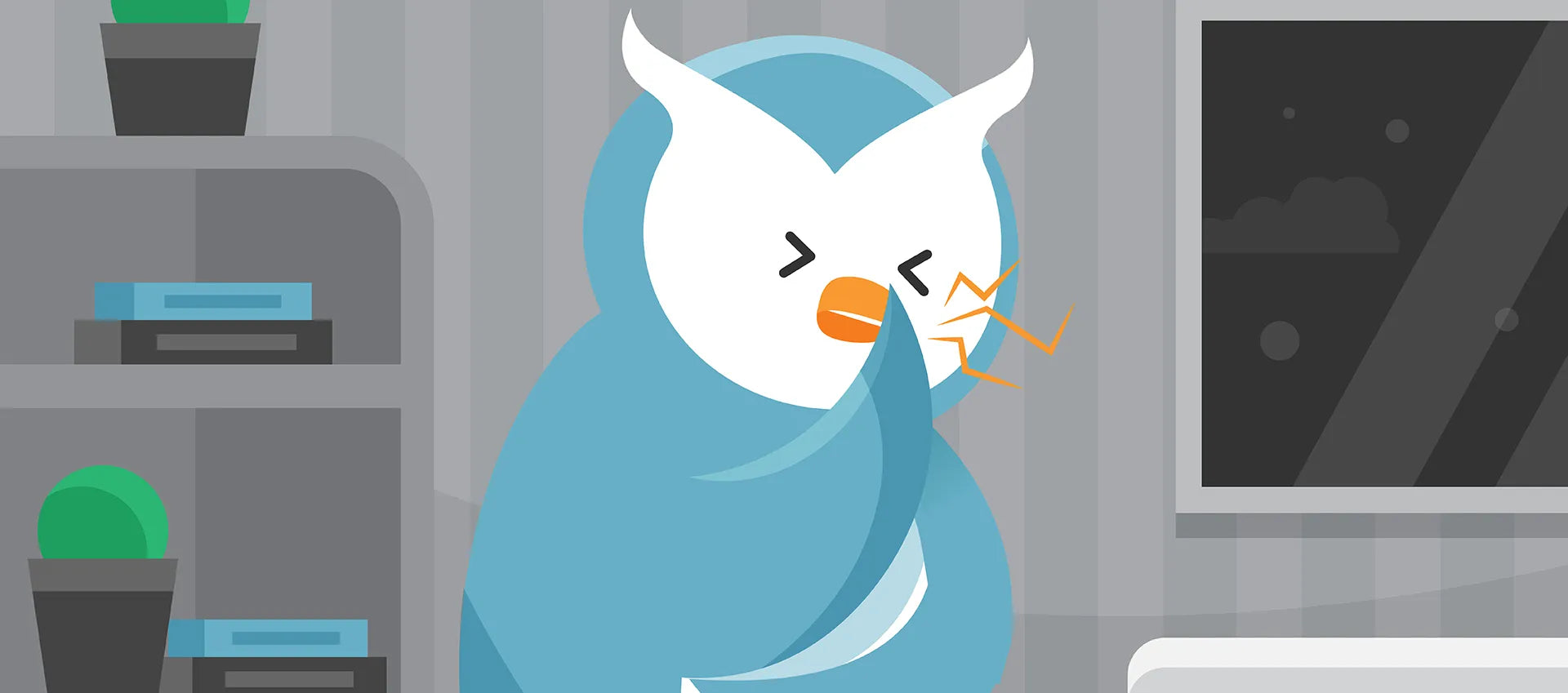 How To Avoid Back Pain While Coughing
By Dr. Shoaib Muhammad , published on July 06, 2023
Dr Shoaib Muhammad, MD, is a member of the Royal College of Physicians of London, an experienced doctor and published medical researcher with a passion for advancing medical knowledge and improving patient outcomes. With extensive experience in preventing, identifying, and managing physical and mental health issues, Dr Shoaib dedicates his life to providing patients with the highest quality of care at his tertiary care hospital.
Full author bio
Yes, back pain from coughing can be concerning. And it's quite common too. 
Here's what you need to know.
Coughing is a reflex activity that helps clear mucus and irritants from the airway passages.
It can cause back pain because its sudden and forceful nature can strain back muscles. So if you have a pre-existing back pain condition, it can be aggravated.
In some cases, it can highlight one that was already there, even if you didn't know about it.
Luckily, there are useful steps you can implement to reduce the possibility of developing back pain while coughing.
By following these guidelines, you can take proactive steps to protect your back health and alleviate back pain caused by coughing.
Common Causes Of Back Pain While Coughing
Back pain can be awful, especially if it comes on while coughing. Your mobility may be restricted, and daily tasks hampered.
In the following section, we'll look at several typical coughing-related back pain triggers, like muscular spasms, sprains, strains, herniated discs, stenosis, and even lung cancer.
Muscle Problems
Spasms: Muscle spasms happen when there's an involuntary contraction of the muscles in your back. These spasms may be brought on by coughing, resulting in back pain.
Spasms can be caused by overusing the muscles, electrolyte imbalances, dehydration, or muscle fatigue [1].
Strains: Back strains occur when the tendons or muscles in your back are stretched or torn.
Strong coughing can put tension on the muscles and make the pain worse. Back strains can be exacerbated by bad posture, abrupt movements, or inappropriately carrying heavy objects.
Sprains: These have an impact on the ligaments that join the bones in your back.
These ligaments might become strained when coughing, causing discomfort. Sprains can be caused by awkward movements, unexpected twisting, or falls.
Spinal Conditions
Stenosis: Spinal stenosis is a disorder in which the spinal canal narrows and puts pressure on the spinal nerves. Back discomfort can result from coughing since it can further compress the nerves.
Stenosis frequently occurs as a result of arthritis or the progressive ageing of the spine.
Herniated Disc: A spinal disc becomes herniated when the soft interior core of the disc pushes through the disc's outer sheath. Coughing can worsen the pain by putting additional pressure on the disks.
Damage, inappropriate lifting of large objects, wear and tear, and injuries can all lead to a herniated disc [1].
Other Factors
Obesity: Carrying around extra weight may tax the spine and the systems that support it. Back pain may result from the extra stress on the back that occurs when you cough.
This problem can be minimised by maintaining a healthy weight through wise eating habits and regular exercise.
Chronic Cough: Over time, an ongoing or chronic cough can put stress on the muscles and supportive structures of your back. Long-lasting coughing spells can be brought on by diseases including asthma, chronic bronchitis, or respiratory infections.
Back pain might arise from muscle strain and tiredness from coughing. Back pain bouts can be decreased by treating the root cause and properly treating your cough [2].
Lung cancer: Although uncommon, lung cancer can result in back pain that gets worse when you cough. Back pain can result from tumours pressing on the bones or nerves.
Other signs may include fatigue, shortness of breath, a persistent cough, and weight loss. If you encounter these symptoms, see a doctor right away.
What To Do For Back Pain While Coughing
It can be difficult to manage back pain when coughing, but there are things you can do to make it easier and speed up the recovery process.
This section will discuss some practical methods for managing back pain while coughing, along with suggestions for useful exercises, seat cushions, and desk posture.
Exercises for Back Pain Relief
Regular physical activity can help to increase flexibility, strengthen the back muscles, and support the spine. The following exercises for back pain can be helpful:
Stretching exercises: Light stretches for the back, hip flexors and hamstrings can reduce stress and increase flexibility.
Core-strengthening exercises: Exercises to improve your core include bridges, planks, and abdominal crunches, which can assist to stabilise your back by strengthening the muscles in your core.
Aerobic exercises: Exercises that increase your heart rate and your general fitness without putting too much stress on your back include walking, cycling, and swimming [2].
Seat Cushions for Back Support
Back pain when sitting might be eased with the correct seat cushion, especially during coughing bouts. Consider the options listed below.
Lumbar support cushions: These lower back cushions give more support to the lower back's natural curvature, encouraging good posture and easing strain.
Coccyx cushions: Created to relieve pressure on the tailbone, coccyx cushions can help ease back pain, particularly if you have pain in the lower back.
Desk Posture
Maintaining appropriate desk posture is essential for reducing back discomfort if you spend a lot of time sitting at a desk. Here are some suggestions.
Sit up straight: prevent bending over or hunching forward by keeping your back straight and parallel to the chair.
Adjust your desk height: Set the height of your workstation so that your elbows and forearms are parallel to the ground and your feet are flat on the floor or a footrest.
Use an ergonomic chair: Use a chair that supports your lower back and encourages excellent posture, like an ergonomic chair.
Other Recommendations
Here are some other suggestions for managing back pain while coughing, in addition to exercises, desk posture, and seat cushions.
Apply heat or cold: Using an ice pack or heating pad on the affected area might alleviate discomfort and reduce swelling. Another effective option for back pain relief is a heat rub, Deep Heat Mentholatum, which works rapidly in alleviating back pain caused by coughing. Use deep breathing techniques: This helps relax your muscles, release tension, and get relief from back pain when coughing spells occur.
Maintain a healthy weight: Maintaining an appropriate body weight through a well-rounded diet and regular exercise will reduce the stress on your spine because excess weight can add to the strain on your back.
Stay hydrated: Drink plenty of water during the day to avoid dehydration and to avoid muscle spasms and cramps, which can exacerbate back discomfort. You can easily manage back discomfort when coughing and enhance the general health of your back. Just incorporate these techniques into your everyday routine.
When To See Your Doctor For Back Pain Caused By Coughing
Knowing when to see a doctor for cough-related back pain is essential for prompt diagnosis and efficient treatment. Here are some things that could be considered back pain red flags, so seek medical attention if you get one or more of them.
Severe or worsening pain: It's best to see a doctor if your back pain when coughing is severe, gets worse over time, or becomes intolerable. This might point to a more serious underlying condition that needs treatment.
Persistent pain: It's a good idea to see a doctor if your back pain doesn't go away after a few weeks of self-care and rest. Back pain that is persistent or chronic may need further assessment and treatment.
Neurological symptoms: It's critical to get immediate medical help if you experience any associated neurological signs, like tingling, numbness, weakness, or loss of bowel or bladder control. These symptoms need immediate evaluation because they may point to nerve damage or compression.
History of trauma or injury: If coughing makes your back pain worse and you have a preceding history of injury or trauma to your back, like a fall or accident, it's best to see a doctor. To determine whether there is any underlying injury or fractures, a thorough examination, and the appropriate imaging tests may be required.
Other unsettling symptoms: If you experience other troubling symptoms, like unexplained loss of weight, night sweats, fever, or persistent coughing, it's important to speak with a doctor. These symptoms might be a sign of a serious medical condition that requires immediate care.
Functional impairment or limited mobility: It's advised to seek medical attention if your back pain when coughing negatively impacts your daily activities, restricts your mobility, or lowers your quality of life.
A medical expert can determine the severity of your condition and offer suitable treatment options.
The Bottomline: Expert's Advice
Preventing back pain while coughing calls for a multifaceted strategy centred around good body mechanics. Build the core muscles, keep a healthy lifestyle, and seek medical guidance when necessary.
You can significantly lower your risk of back pain during coughing bouts and lead a healthier and pain-free life by paying attention to your posture. Exercise regularly, avoid undue strain, and take necessary precautions.
Remember that the best way to prevent and treat cough-related back pain is to take a proactive and holistic approach to your overall health.
References:
1. Healthmatch. Lower Back Pain When Coughing: What You Need To Know. https://healthmatch.io/lower-back-pain/lower-back-pain-when-coughing
2. Medical News Today. What causes lower back pain when coughing? https://www.medicalnewstoday.com/articles/325707